Up for Review: Friends Without Benefits by Marci Boudreaux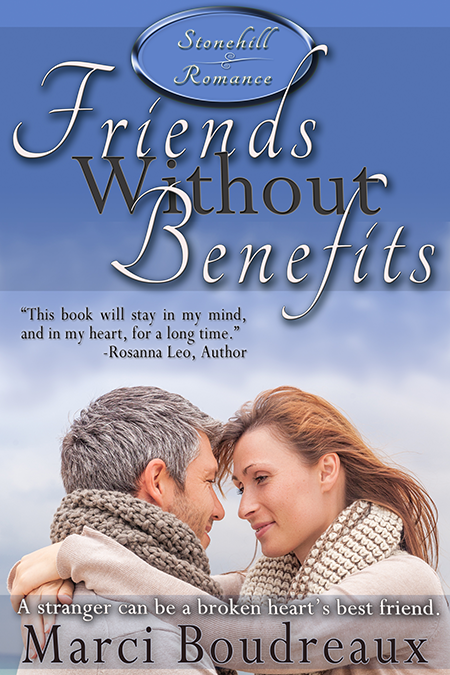 Title: Friends Without Benefits
Series: Stonehill Romance Book 2 (Standalone)
Author: Marci Boudreaux
Genre: Contemporary Romance
Published: July 10th, 2015
Formats Available: Mobi, ePub, PDF
~ Synopsis ~
Dianna Friedman never expected her husband to leave her. Who does? But she's making the most of what she has left–a sarcastic near-grown son and a mountain of bills that just keeps growing. She's in over her head, but she is determined to survive.
Even if everyone else saw it coming, Paul O'Connell was blindsided by his wife's affair and attempt to bleed him dry. He reaches out to Dianna–the woman who caught their spouses cheating–in hopes that her testimony at his divorce hearing will prevent him from paying alimony.
Dianna and Paul become fast friends and maybe a tad bit over-dependent on each other, but who are they hurting? No one. At least not until Dianna's life takes yet another unexpected twist and she and Paul have to step back and reevaluate everything…including what they mean to each other.
~ About the Author ~
Marci Boudreaux lives with her husband, two kiddos, and their numerous pets. She recently hung up her journalism hat to focus on content editing for several publishing houses, as well as writing.
Romance is her preferred reading and writing genre because nothing feels better than falling in love with someone new and her husband doesn't like when she does that in real life.
By submitting a review request, you acknowledge and agree to the following:
– Signing up does not guarantee you will receive a review copy.
– To read and review the book within 6 weeks of receiving the book.
– If accepted, you are required to post your honest review to Amazon and send us the direct link. We encourage you to post your review to other sites, including but not limited to, your blog, Goodreads, Barnes & Nobles, Booklikes, Smashwords, LibraryThing, Shelfari, etc.
– Each reader will be allowed only one book at a time. After we receive the link to your review, you may request a new book. This is to help prevent readers from receiving a free copy of the book but not posting a review.
– Your email will be used only to provide you with a review copy and will never be shared with the author and/or publisher
Have you received and read this book through our Review Library? Be sure to fill out and submit THIS FORM to provide us with the link to your review so that you will be eligible to receive more books! You're welcome to email us the link if you'd prefer.