Archived – River of Bones by Angela J. Townsend
~ Schedule ~
River of Bones by Angela J. Townsend:
~ About the Book ~
Title: River of Bones
Author: Angela J. Townsend
Published: October 30th, 2013
Word Count: approx. 50,000
Genre: YA Horror
Recommended Age: 14+
~ Synopsis ~
When seventeen-year-old Dharma Moore moves to Bayou country so her scam artist mother can work as a Paranormal Investigator, she discovers that more than ghosts haunt the abandoned plantation they now call home.
Centuries ago, a voodoo curse was placed on the swamp waters surrounding the old plantation by a murdered slave. This terrible curse ensnares Dharma with its deadly effects. To save herself, she must face the terror of the haunted waters, find the dead woman's skull, and convince the slave's soul to release her from its torments. When Dharma discovers an ancient secret that links her to the property—a secret kept from her by her own family—she realizes that the curse is more personal to her than she ever imagined.
To survive, Dharma must accept the help of the locals, and put her trust in the handsome gardener, Wolf Bodine—who is the only one crazy enough to come near the plantation. With his help, Dharma must learn to embrace the truth and accept that magic is not only real… but that it can be very, very deadly!
~ About the Author ~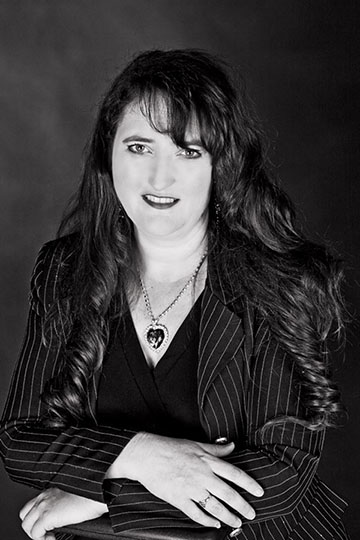 Angela Townsend was born in the beautiful Rocky Mountains of Missoula, Montana. As a child, Angela grew up listening to stories told by her grandparents, ancient tales and legends of faraway places. Influenced by her Irish and Scottish heritage, Angela became an avid research historian, specializing in Celtic mythology. Her gift for storytelling finally led her to a full time career in historical research and writing. A writer in local community circulations, Angela is also a published genealogical and historical resource writer who has taught numerous research seminars. Currently, Angela divides her time between writing, playing Celtic music on her fiddle, and Irish dancing.
Angela's first novel, Amarok, was published through Spencer Hill Press in 2012. Her newest novel, Angus MacBain and The Island of Sleeping Kings, was signed for publication with Clean Teen Publishing and released in September 2013. Her most recent young adult horror novel, River of Bones, is scheduled to release late October 2013.
Angela resides on a ranch, in rural Northwestern Montana, with her two children Levi and Grant.
Amazon Author Page | Facebook | Twitter | GoodReads | Blog
~ Excerpt ~
I shuffled into the living room looking for Wolf. He sat in front of the hearth staring at the skull. He glanced at me when I came in, then leaped to his feet and took my elbow.

"I'm ready for bed," I said. "Can you help me get up the stairs?"

"Sure," he said.  "But why don't you just sleep down here where I can keep an eye on you."

"Because I have to have the skull under my bed, remember? Down here there's no bed, only a couch, and I'm not taking any chances. My throat is killing me. I'm getting weaker. Wolf, I'm scared. My whole life, I've taken care of myself and Benny. What will happen to my brother if I die?"

Wolf grabbed my shoulders. "Don't talk like that. We're gonna beat this thing. Whatever it is."  He snatched the skull, tucked it under his arm, and bent down. "Get on my back and I'll give you a ride."

I hesitated. "What if I'm too heavy?"

Wolf laughed. "You're far from heavy, Dharma. Look, you need to start trusting me. And you have to start trusting yourself. You are stronger than you think you are, and you're braver than you know. Now hop on."

I wrapped my arms around his neck, and collapsed against him. "Thanks," I said, inhaling his woodsy scent.

Wolf labored up the steps, every muscle in his strong back flexing beneath me. At the landing, I slid off and hobbled down the hallway to the master bedroom.

"Good thing I made the bed last night," Wolf said.

"You did? Wow, thanks."

"I had to have something to do while you were sleeping."

He pulled back the blankets and held them up so I could climb into the soft bed. Wolf got on his knees and slid the skull underneath the creaky springs.

"You sure you're going to be okay up here?"

"I hope so," I said. "At this point, nothing matters but sleep, even if I don't wake up."

"Are you sure about that?" Wolf said. He gazed into my eyes and leaned in close, his lips almost touching my forehead. My heart skipped. For a moment, I thought he was going to kiss me, but instead he placed a hand against my cheek.

"You still feel like you have a fever. No wonder, with everything you've been through." He pulled away. "I'm going to camp right outside the door. Call me if you need anything."

"Thanks," I said. It felt good knowing he would be so close. I couldn't blame him for not kissing me. My heart sank, I'm sure I looked totally gross. I closed my eyes, listening to his hollow footsteps as he walked away.

Every sound set my nerves on edge—the howling wind, the rattling shutters, the clatter of pipes, a weird scraping outside my window. Then I heard another noise. A different kind of noise. Low. Raspy. I strained to hear against the wind, and held my breath. The eerie sound stuttered in the darkness.

Heavy, mucus-filled breathing.

Coming from under the bed.
~ About the Publisher ~
Website | Blog | Facebook | Twitter
~ Giveaway ~
Stay You & Happy Reading,
Jaidis