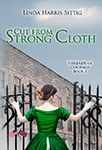 Archived – Cut From Strong Cloth by Linda Harris Sittig
~ Schedule ~
Cut From Strong Cloth by Linda Harris Sittig:
~ About the Book ~
Title: Cut From Strong Cloth
Author: Linda Harris Sittig
Published: November 21st, 2014
Publisher: Freedom Forge Press
Genre: Historical Fiction
Content Warning: Non-graphic sexual content
Age Recommendation: 18+
~ Synopsis ~
At nineteen, Ellen Canavan lives for the dream of her late father: to succeed in business. But being a woman in 1861, she finds the path to entrepreneurship blocked many times over. The threat of war, her mother's disapproval, and even a malicious arsonist threaten to limit the aspiring textile merchant to the status of impoverished Irish immigrant. As she travels from the factories of Philadelphia to the riverfront wharves of Savannah with her business mentor, James Nolan, the Civil War explodes amidst their blossoming love, and the two are separated. Can Ellen's undaunted, fiery strength guide her through a divided nation, or must she abandon her dream in order to save her own life?
Amazon | Barnes & Noble | GoodReads
~ About the Author ~
Born in New York City, and raised in northern New Jersey, Linda's love of history and a commitment to family and literacy led her to a career in writing articles and books for parents, grandparents, and teachers on how to instill the love of reading in children of all ages. Twice recognized for her journalism by the Virginia Press Association, Linda and her husband live in western Loudoun County, Virginia, where the Blue Ridge Mountains are the first to greet the dawn.
Amazon Author Page | Twitter | GoodReads | Website | Blog
~ Excerpt ~
"Then you don't know me as well as you think. Remember when I told you I wouldn't let disappointments interfere with my dreams of success? Weaving is my legacy from Da. I was meant to become a textile merchant all along. And I don't need anyone taking care of me. I can take care of myself."

"Ellen, your Da's been dead for years. You don't owe him a thing."

Her eyes stormed as she held her head high. "I'll succeed for him because he never got the chance."

James shook his head. "If I canna talk you out of this foolhardy scheme, then I won't be giving you my blessings for the trip."

"I dinna ask for them."
~ About the Publisher ~
Freedom Forge Press Publishing Links:
Website | Blog | Facebook | Twitter | Store
~ Giveaway ~
Stay You & Happy Reading,
Jaidis