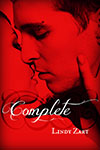 Archived – Complete by Lindy Zart
~ Schedule ~
Complete (Incomplete # 2) by Lindy Zart:
~ About the Book ~
Title: Complete
Series: Incomplete #2
Author: Lindy Zart
Published: March 15th, 2014
Word Count: 82,500
Genre: New Adult Romance
Recommended Age: 16+
~ Synopsis ~
If the truth sets one free, why does Lily Jacobs feel so trapped?
She's learned doing the right thing isn't always best and now she is living the consequences of her greatest sacrifice. Every day since Grayson Lee left is one she wishes he hadn't. Years have gone by since their friendship turned to more and then was eradicated by Lily alone; enough time for their young love to fade. Only it hasn't, not for Lily.
Now he is back and seeing him is devastating to her at the same time it is rapture. She tries to accept that they cannot be together, but everything inside her shouts that they should be; that they only fit with each other. And so she has to accept the greatest truth of all: She loves him still. She loves him enough not to let him go this time.
Amazon | Barnes & Noble | GoodReads
~ About the Author ~
Lindy Zart has been writing since she was a child. Luckily for readers, her writing has improved since then. She lives in Wisconsin with her husband, two sons, and one cat. Lindy loves hearing from people who enjoy her work.
Amazon Author Page | Facebook | Twitter | GoodReads | Blog
~ Excerpt ~
I sit down and hazard a glance at him. "Sorry about my mom."
He laughs. "Your mom is amazing."
"She's pushy."
"She means well."
"I doubt you want to be doing such trivial things as mowing lawns while you're here."
He shrugs, taking a drink of his tea. "I don't mind. It's kind of nice to do manual labor for a change."
"What do you normally do for manual labor? File your nails? Maybe flex your biceps for photo shoots?"
"Ouch. You just demoralized my manhood. It may never recover."
A smile takes over my mouth. "I'm sure one simpering look from a female and it will be restored."
"Depends on the girl."
"Oh, I doubt that."
A snort is his only response.
~ Giveaway ~
Stay You & Happy Reading,
Jaidis